Thining to create PUBG Clan but don't have any stylish name for Clan? Here, we have shortlisted more than 250+ PUBG Clan Names. There are all types of clan names according to your choice. Every PUBG play knows that how important a clan name is. The more stylish and different your can name will be the more people will join it. So, your clan ranking will grow very quickly.
PUBG Mobile offers many rewards like UG currency, clan points, scrab coupons, etc. With the latest update of PUBG Mobile, now you can compete with other clans so, you must need a stylish clan name to attract more players.
Pro Advice: If you don't have a stylish PUBG name then you should check our list of 2500+ PUBG Names.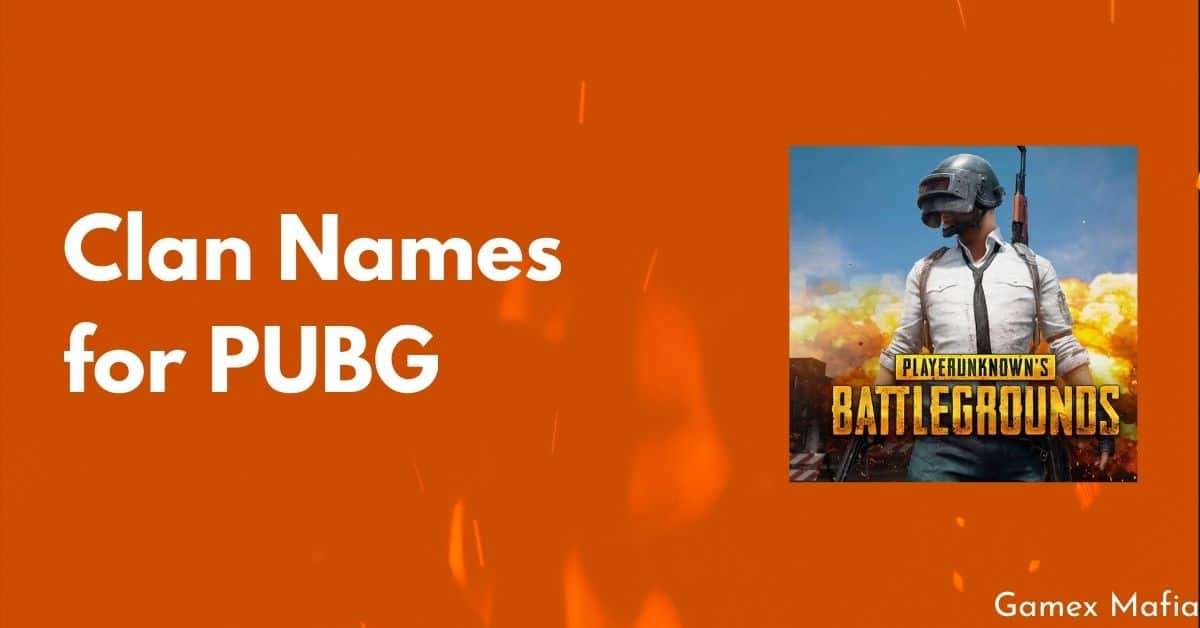 If you have a PUBG clan name and players are not joining it then you should change your clan name because everyone wants to join a clan that has a stylish name. The name is PUBG Mobile always matters because it helps to leave a footprint on enemies you killed in-game.
Benefits Unique Clan Name
A stylish and unique clan name is required to attract the attention of other players. Except for, attention, there are also several benefits maybe you don't know.
A unique clan name is easy to remember
You can leave a footprint on enemies you killed
Unique clan attracts other clans and players attraction
Rank your clan in the top 100 by adding pro players
Attract more players to add to your clan if you have a unique name
Attract the attention of other players by ranking in the top 100 and have a good clan name
How to Change the Clan Name?
Changing the clan name is not rocket science because it is very easy even a 2nd standard child can do this. I know, newbie players can be confused for the first time but I'm very sure after this you don't need to see any article or blog to know clan name changing.
Purchase a clan rename card using clan points from the clan shop section.
Go to PUBG inventory and locate clan rename card.
Click the rename card and hit the use button.
Now a box will open, where you have to enter your new clan name.
Hit the OK button and the name will be changed in few seconds.
Note: According to PUBG Mobile, a clan name only can be changed every 60 days. So, before changing the clan name always double-check clan name spelling. I hope you know that only Clan leaders can change the clan name.
Choose Best PUBG Clan Name
Do you know? There are thousands of clans already created with the best and unique names. So, it will be very difficult to choose a stylish and best name but I can help you to create your own unique name. Here are some tips that can help you.
Symbol: Different player likes different symbol so, find a symbol you want to use
Gaming Word: Find the best gaming names and write them somewhere like notepad
Use a Character: I'll recommend using an alphabet character in the clan name
Use Popular Name: Use some popular names you like Mafia, Danger, Killer, Crazy, etc
Create Unique Name: You can create your own unique by cutting and combining two or three names you like
Best Clan Names for PUBG
Here are all the best names for PUBG and you can use them. If you don't like any name then you can create your own unique clan names by combining two or more names you like. You can also use some numbers but try to use only one number because if you'll use multiple numbers it will be hard to remember.
Best Clan Names
| | | |
| --- | --- | --- |
| Mafia | Killer | Crazy |
| Don | Viper | Killer |
| Danger | Dark | Gods |
| 8Bit Mafia | Loki | Ninja |
| Venom | Panther | Thor |
| I Mafia | Black Panther | Game x |
| Dray | Helly | Hell Boys |
| Black Mafia | Vision | Wanda |
| iCrazy | xVision | Solder |
| Dark Craz | WipeYou | Killit |
Stylish Names
| | | |
| --- | --- | --- |
| We are Here | Dare Killer | Dear Viper |
| Call me Mafia | I'm Crazy | Crazy Sniper |
| One Sniper | I'm Back | Gabbar is Back |
| Sniper Clan | Wiped | Alpha |
| Snippy | Classy | Snipe |
| We are Back | Squad Attack | I'm Spidy |
| Sild | Hydra | Vision |
| Hunter Squad | Crazy Hunters | Mr. Mafia |
| Mafia Gang | Sure to Kill | it's Here Choice |
| Go Corona | LoL Joker | GameChanger |
| Love Killer | Killer Guru | Killer Squad |
| Beta Joker | Hydro | Soul |
| Nike | Xerox | Zero |
| FCKR | TBSL | RDX |
| MSX | HGX | GTX |
Conclusion
There are all the best clan names for PUBG to use as your clan name. These are the most popular and stylish PUBG clan names. We shortlisted these names from movies, books, comics, etc.
If you don't like the above names then you can create your own clan name by combining two or more names and using stylish symbols. You can also use some fonts generator to make your name more stylish.